Join Us To Reach The Top Of Africa.
Experienced Kilimanjaro Tour Operator
Tanzania is home to some of the most diverse mountain ecosystems on the planet, including imposing volcanoes and lush, verdant forests that are home to a wide variety of endangered species. Trekkers will be happy to learn that there is still so much to see after reaching the peak of Mount Kilimanjaro. For day outings or multi-day climbs, we've compiled a list of some of Tanzania's top mountain spots. As several of these mountains are found in national parks. 
Kilimanjaro National PARK
Udzungwa Mountains National Park
Mahale mountains National Park
Mount Kilimanjaro Climbing
Tailor-Made Experiences In Tanzania Safari Tours & Kilimanjaro Climb
The world's tallest free-standing mountain is in Tanzania, It is snow-capped Mount Kilimanjaro, which rises to a jaw-dropping height of 19,341 feet/5,895 meters. It's also the tallest mountain that can be walked up (no technical skill required). Don't get us wrong, climbing Mount Kilimanjaro requires multiple days of trekking in the wilderness at high altitudes, which obviously entails hazards. The climb will be a once-in-a-lifetime adventure for many of our guests and will be much outside of their comfort zone.
Best Time To Climb Mount Kilimanjaro.
Kilimanjaro mountain is considered as all year round destination. This makes Kilimanjaro a flexible location for your upcoming hiking experience. To ensure a safer and more comfortable experience, you should keep in mind that some seasons of the year are considered more suitable for climbing than others.
The following describes the climbing experience you might expect at various periods of the year:
January to March.
The weather from January through March is warmer, with only the occasional light rain. It frequently has less activity than the other peak period, which runs from June to October and overlaps with the major European school holidays.
April and May.
Everyone knows that April and May are wet and should be avoided if it is possible. The trails are particularly slippery and muddy in the rainforest zones during these months.
June to October.
Although they can be a little bit colder than January to March, June to October are considered great months for a Kilimanjaro climb. Since this is the primary high season, the mountain tends to get busier than in other months. This is because trails are dry and suitable.
November and December.
November is knowns for being brief rains, which are to be avoided because it is also starting to get cold.
December – After a short time of rain in November, the weather is currently becoming clearer and warmer. You are more likely to encounter snow at this time of year.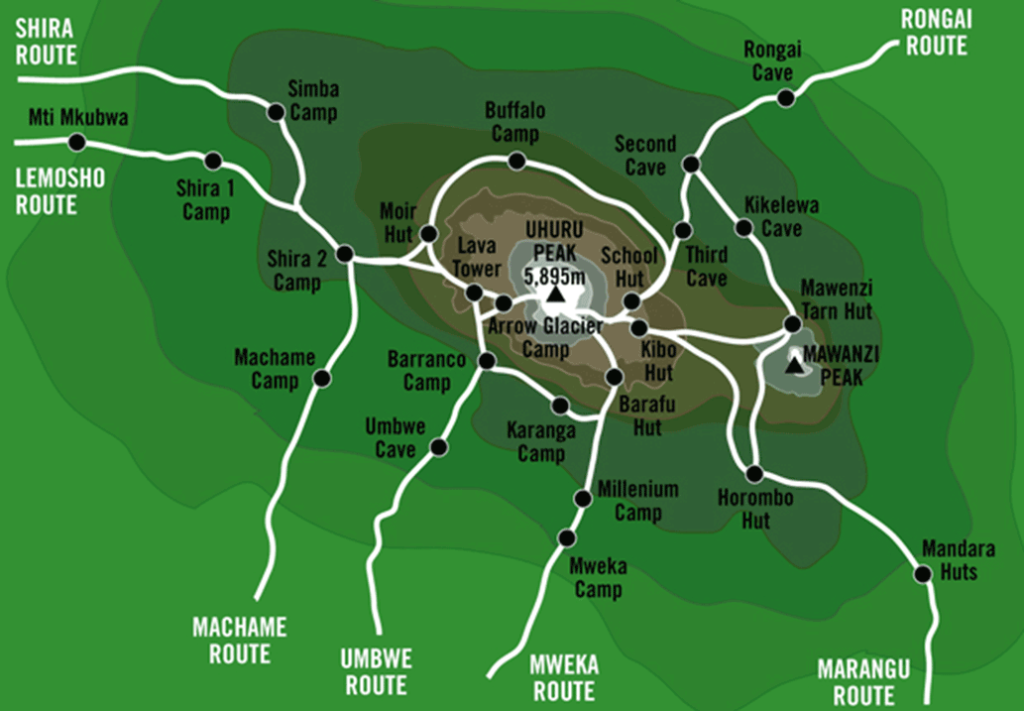 Routes for Climbing Mount Kilimanjaro & Success Rate.
The knowledge and expertise of your guides play a significant role in the safety and success of your Kilimanjaro Climb. We want you to know that you can put all of your trust in their abilities since we make sure that our guides have the best possible education, work history, and certifications.