Lake Manyara National Park.
Explore the Lake Manyara National Park. rich beauty
Lake Manyara National Park.
African travel experience redefined
Lake Manyara National Park.
Welcome to Lake Manyara National Park best known for its tree-climbing lions, the soda ash lake that attracts thousands and pink flamingos, one of Tanzania's largest elephants and the breath-taking world! we provide most up-to-date information on attractions, accommodation on Lake Manyara, get there and much more. Enjoy your trip to Tanzania with us!
Getting There.
The park can be accessed through the south or north gates. The north gate is widely used as many residential areas are located near it. The distance from Arusha to Lake Manyara National Park is 126 km which is approximately 90 minutes by car.
As part of the famous safari cycle in northern Tanzania, Lake Manyara National Park unlike other safari destinations in the region is less visited. Most safari in this round trip to Lake Manyara National Park starts with their journey from the city of Arusha.
Things to do in Lake Manyara.
Find out more about other activities you might like while on Lake Manyara.
We know the image of any safari, so we aim to provide you with the best experience, with specially equipped cars and experienced guides.
Driving games are usually enjoyed twice a day: early morning and afternoon. Our sturdy, customized 4 × 4s and highly trained driver guides take visitors through rugged terrain to discover amazing natural fragments, cross low-lying rivers, and conquer steep ravines to cross open plains.
Start early in the morning with the roar of the engine and the promise of self-sacrifice. The wheels of our rugged terrain shake the mud of the plains, keeping you on your way in search of herds of wildebeests or fleeing leopards.
The pop-up roofs, big windows, and high seats of our custom cars mean you will never miss a thing as you explore the park.
Guests choose when to stop at their game to enjoy a delicious homemade breakfast sandwich and a hot coffee thermos in the morning. If you go out for a walk in the afternoon, we will park the car and drink the appropriate gin and tonic to watch the sunset.
For photo lovers, Zamunda Tours also offers special photo sports cars, and for those who want more privacy, ask about our private cars.
Birding Safari.
When the sun is hot and the lions are lying on their stomachs in the shade of a tree, it is time to look up and see the busy bird life above you. Look at the glittering color and hear the music of the birds singing.
You will probably see weavers wrestling with space and building materials while building their intricately woven nests. Or maybe you will see a tango between friends who can be a spouse as the male sheds feathers and intends to impress.
East Africa is full of luxury swimming pools, whether you are content to see your car from time to time or you prefer to take a hiking trip. Choose your best binoculars, pack a zoom lens and meet a guide that shares your preferences.
Whether on foot or in 4 × 4, the speed decreases in the bird safari and opens up a world of details. Find yourself parked quietly near the famous water hole to watch who enters and walks or crouches in the woods waiting for that amazing flight of movement.
Our birdhouses.
Ruaha National Park and the Selous Game Reserve in southern Tanzania are both ideal places to see East African Birds and South African migrants. Deep in the forests of Rubondo Island or in the Ngorongoro Crater, enthusiastic bird lovers can see hundreds of species of birds. Zamunda's reach extends to the Ugandan and Rwandan bird sanctuaries as well as to the green shores of Swahili.
Be prepared
With a variety of destinations waiting to be explored on the East African safari holiday, enthusiastic bird lovers should be prepared for the environment and the weather.
Dusty plains, damp forests, muddy roads, and long trek may stand between you and the last bird on your checklist. Pack lightweight and comfortable clothes with warm and waterproof options. Medium colors are best for a combination, while sturdy riding boots will never fail when climbing over fallen rocks and trees to see that rare winged beauty.
Other activities are Bush walks and boat safari
Manyara National Park is known for its large elephant herds and tree-climbing lions, but it also has a large population of hippos, as well as plenty of buffalo, zebra, wildebeest as well as birdlife.
The dry season, which runs from July through October, is the best time to watch game.
During the wet season, you can go kayaking, bird-watching, and waterfall-seeking (from November to June).
Game drives, night game drives and canoeing when the water levels are high enough.
Cultural tours to the nearby Mto wa Mbu, an ethnically diverse market town.
Bush dining, mountain biking, abseiling and forest walks in the vicinity of the park.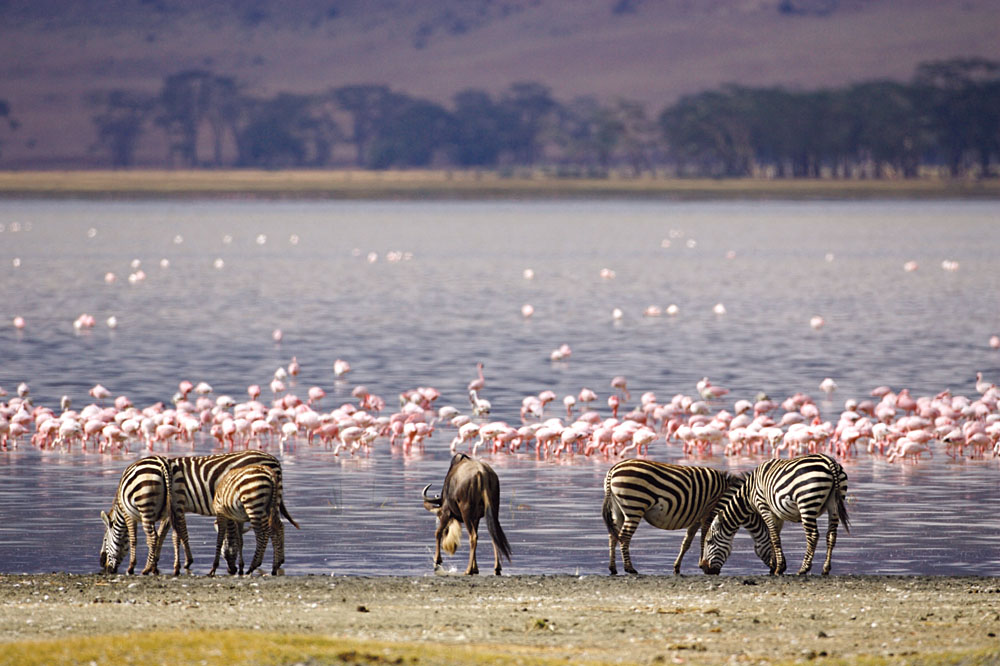 Plan Your Own Tailor made Safari
Home to Flamingos & tree climbing lions